Hiya, soon-to-be-mumma! We bet you cannot find the right words to describe the rush of excitement you feel right now. But it probably shows through your baby glow! As you anticipate your mini-me's arrival, shopping for teeny-tiny clothes may seem more fun and thrilling than buying maternity ones for yourself. The same may go for decorating your baby's nest, the intimate space where you will spend heaps of time together.
Readying for and designing a nursery is an enjoyable and rewarding experience. However, it does not come without its challenges. Most parents consider the fact that the room will be their little one's first. Hence, they feel pressure to do their best. If you think the same, take comfort knowing that having high standards for your baby is entirely normal. After all, they are precious, and you are over the moon for them. Admit it!
When it comes to furniture, decors, and in-betweens, there are loads of jaw-dropping ones out there! Achieving nursery of your dreams can be a little daunting if you do not know where to begin. Nevertheless, once you set your eyes on your little darling, you will realize that all planning and effort are worth it in the end! Please take a minute to arm yourself with the nursery decor inspirations and tips we've prepared for you. These will surely help you create an inviting space that will bring you and your baby calm and comfort in the years ahead!
Settle with a Specific Theme that Speaks to You
Although you are not required to limit yourself with a single theme, choosing one early on will help you narrow down options for other elements. Everything flows from here on. Also, it is instrumental in putting together a more cohesive visual aesthetic. Stars and animals are not the only options. You can even base your theme on a specific colour scheme or a graphic pattern such as shapes, polkas, or stripes.
Select the Perfect Palette 
The room is your canvas. Hence, choose colours that let you express yourself for the wall, ceiling, and other elements. At the same time, these will probably depend on your theme. If you are going for a minimal design or the classic bunny or horses, use soft tones of your favourite colour. Emphasize green for pieces that depict nature or the jungle. This colour is the most popular option for its refreshing quality. Shades of blue, on the other hand, is most suiting for a nautical vibe. When it comes to fairytale themes and floral patterns, casts of red, pink, and purple are more appropriate.
Glam up the Wall 
Aside from covering the nursery walls with your favourite colours, another option is to spice it up with wallpapers of different patterns. You can also paint these with elements of your chosen theme. Feeling a sense of wanderlust and dreaming of travelling with little bub in the future? You might find inspiration in having a world map wall decal over their crib. Else, amuse your future guests with whimsical portraits of baby animals or those of your family!
What better way to personalize a wall gallery than with prints of your little sweetheart's photographs? Yes, you can finish the room even after the celebrity has arrived! At Kristy's Studio, I capture timeless portraits that you will refuse to take down even if the baby has grown up! Also, you can join the picture. Let me lend a helping hand by delivering your favourite shots in frames, which can be the perfect main pieces of your dream wall art!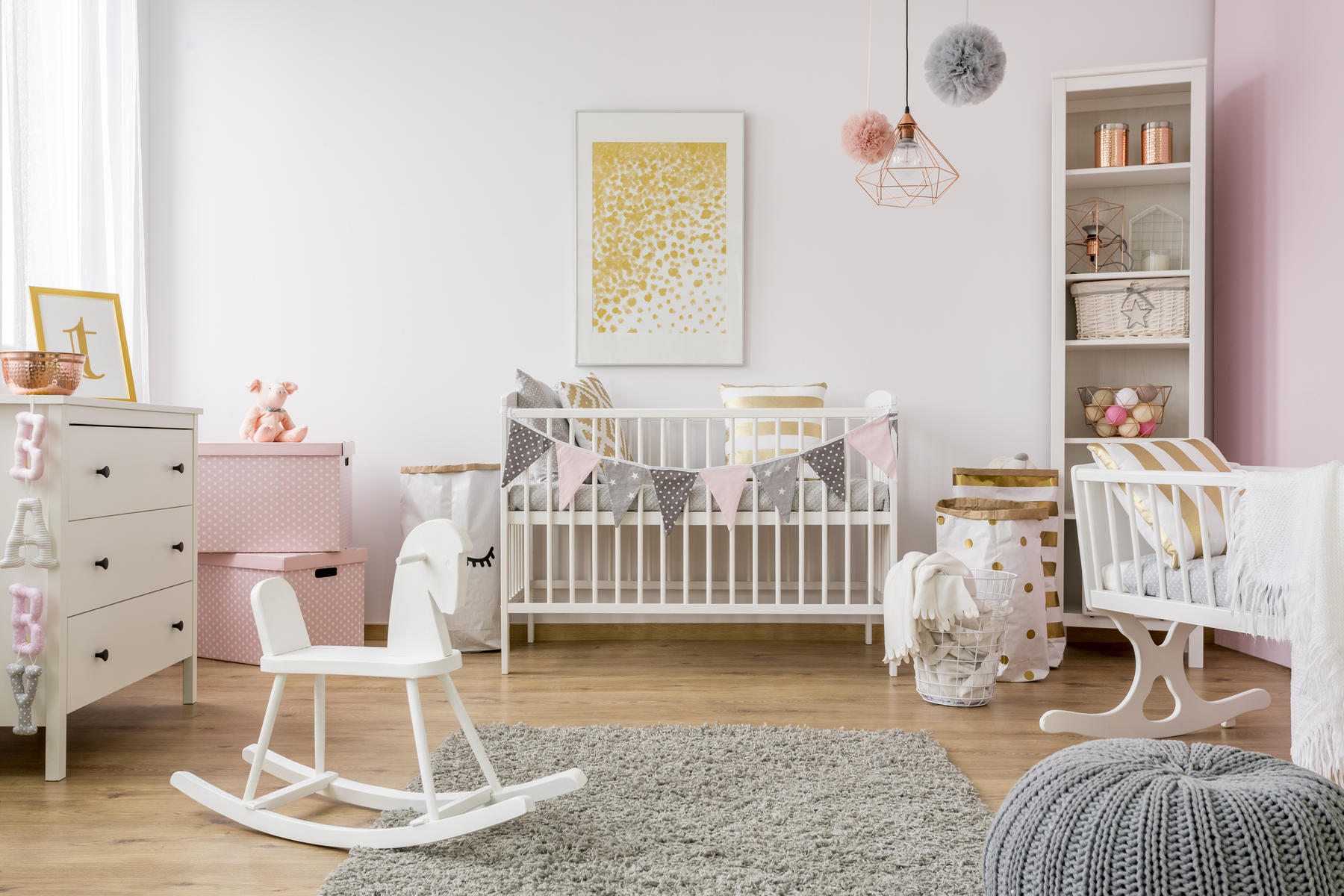 Consider the Baby's Perspective 
During infancy, babies spend much of their time lying on their back. Hence, give your precious one something to contemplate on by adding elements that will stimulate their eyes. Enhance the ceiling by painting it up or adding wallpaper. For an outer space or The Little Prince room theme, pictures of planets and other celestial bodies can do the trick. The sight of star-shaped glow-in-the-dark pieces can be a treat to your baby before they reach their dreamland.
Sweet dreams are made by adorable crib mobiles, too. Hanging tiny wooden sailboats and plush little stuffed toys can be a source of delight when your bundle of joy wakes up in the night. Such entertainment may also buy you time whenever they call for you.
Choose an Impressive Crib
The crib is usually the centre point of a nursery. Wow every excited visitor with an interesting one, but make sure that this matches your theme. If you are going for a nautical one, it is fitting to get a boat-shaped crib. For fairytales, a pink carriage-like one will surely spark up the room. A crescent moon-shaped crib, on the other hand, will surely suit an astronomy-themed space.
Dress up the Changing Table and Nursery Storage
It might seem unnecessary to load up space since bub's stuff are tiny. Trust us when we say your little one will receive tons of clothes and toys from family and friends! Hence, prepare for a large changing table and more storage. Maximize their functions by integrating these into the whole scheme of the room. Yes, hit two birds with one stone, mama! Opt for a changing table with drawers and closed storage pieces to tuck away unsightly essentials and have these designed consistently to your theme.
Think Long-Term
Time flies by and the next thing you know, your baby has grown. Step up your storytime game by adding a bookshelf or ledges to display some bedtime titles on. A great idea is to install seven levels and paint these according to the colours of the rainbow. Voila! It doubles as decor. Also, let a stylish growth chart join the fun. This will help track your bundle of joy's height in the future.
Leave some room to grow and baby-proof the nursery as early as now. Before you know it, you have a little adventurous tyke who loves to explore and demands a giant bed and lots of toys. Hence, take the time to cover electrical outlets and avoid including objects that may easily break.
Getting more futuristic now? If you need some excellent motherhood tips and advice, have my friends from Baby Wonderland to walk you through. With the belief that a happy bub takes after a delighted and healthy mum, they make navigating the pre-baby world and beyond feel like a waltz! Explore their website to learn more